PROGRAM
I provide a fun, loving, and caring home environment for children to feel safe and comfortable. I have a large playroom and preschool area and a large outdoor play area. I offer a preschool program September-May, along with other fun people who come in and teach your children! I participate in the USDA Food Program. We have lots of fun while learning and playing. I really enjoy and love my career.
Learning activities are an important part of my childcare program. They are not rigidly structured, but informal to meet the needs of infants-kindergartners. I do teach a preschool program in which they learn all the basic skills. We do activities such as, coloring, crafts, singing, calendar and weather time, science, math, letters and so much more; everything a child needs to be ready for kindergarten. Remember: playing is a learning experience.
We spend as much time as possible outside, year round. We also go for walks and to the park to play.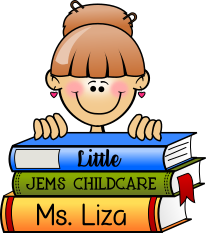 We also have special guests and the children LOVE them:
Zumbini with Ms. Amy
The children love Zumba with Amy. As a teacher she guides children as they explore zumba in an environment that allows them to move, sing, play instruments and have fun. They Build strength and increase Movements. Class with Amy involve Dancing, singing songs, and creating art.
childcare, child care, daycare, day care, preschool, preK, pre-K, infant, licensed, toddler, school, center, family, family childcare, home, family child care, family day care, family daycare, childcare, child care, daycare, day care, preschool, preK, pre-K, infant, licensed, toddler, school, center, family, family childcare, home, family child care, family day care, family daycare, childcare, child care, daycare, day care, preschool, preK, pre-K, infant, licensed, toddler, school, center, family, family childcare, home, family child care, family day care, family daycare, childcare, child care, daycare, day care, preschool, preK, pre-K, infant, licensed, toddler, school, center, family, family childcare, home, family child care, family day care, family daycare, childcare, child care, daycare, day care, preschool, preK, pre-K, infant, licensed, toddler, school, center, family, family childcare, home, family child care, family day care, family daycare, childcare, child care, daycare, day care, preschool, preK, pre-K, infant, licensed, toddler, school, center, family, family childcare, home, family child care, family day care, family daycare, Shakopee, Shakopee, Shakopee, Shakopee, Shakopee, Shakopee, Shakopee, 55379, 55379, 55379, 55379, Savage, Prior Lake, Chaska, Savage, Prior Lake, Chaska, Savage, Prior Lake, Chaska